Global Travelers Member Peter Kaurup describes a service trip to Guatemala.
I had the pleasure of participating in a Rotary service trip to Guatemala with a primary focus of interacting with the Safe Passage/Camino Seguro operation in Guatemala City.  The trip was to include performing volunteer work at a future school playground being built by Safe Passage in the neighborhood adjacent to the Guatemala City Dump.  After that there would be travel to the cities of Antigua and Santiago Atitlan with visits to other schools and local Rotary Clubs.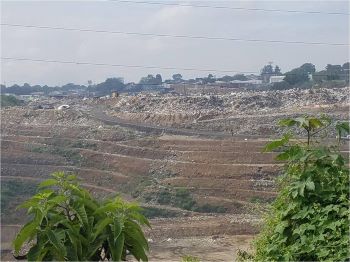 I had some personal hesitation about traveling to Guatemala due to all of the US State Department Warnings/Advisories but after sharing these concerns with fellow Rotarians, my doubts disappeared and I committed to the adventure.  I was part of a wonderful mixture of personalities from Rotary Clubs from Maine located in Freeport, Oxford Hills, Portland Sunrise, and Yarmouth.  I can honestly say that our "gang of 7" had the trip and experience of a lifetime!  A late rainy season delayed the installation of the playground equipment so we were instead tasked with doing heavy labor and the digging of ditches and chipping concrete.  One of our group members was an electrician so his expertise and advice was repeatedly called upon by local construction planners.  Two of our group members also inventoried/categorized books at the school library.  During frequent afternoon rains we headed inside to separate and pack donated clothing and personal hygiene supplies for the community.  We had the opportunity to tour the neighborhoods adjacent to The Dump to see how the residents lived and coped in extreme poverty.  Although most of the scenes were heart-wrenching, it was amazing to see so many smiling faces and grateful people, especially those that that were involved in Safe Passage programs.  The trip truly changed my life and attitude.  As I departed on the flight home, my aircraft flew right over The Dump allowing me to think about how easy I have it and how challenging it is for others simply because they were born and raised in another country in poor economic conditions.  I can no longer whine or complain about those things that I really don't need anyway.  Thank you Rotary for this eye opening experience!  And Guatemala – I will return (and hopefully be able to understand and speak Spanish!).